Because you all have been begging for it, a fully loaded version of Double Impact is making its way to Blu-ray thanks to MVD. This thing is packed to the gills with extras that beg to be perused. The Van Damme vs Van Damme action is in high gear and it's never looked so hi-def! Read more about it below.
---
Following last year's MVD Rewind Collection branded Collector's Editions of classic Van Damme films Black Eagle and Lionheart, MVD continues its love for the legendary action star with a fully loaded Blu-ray of Double Impact, a favorite among fans of the kickboxing action hero!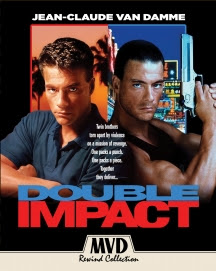 DOUBLE IMPACT
: What could be better than
Jean-Claude Van Damme
(
Lionheart
,
Universal Soldier
) in an explosively entertaining action extravaganza? Two of him! There's twice the excitement, twice the mayhem and twice the fun in this turbo-charged adventure that pushes the thrills into overdrive from co-writer and director
Sheldon Lettich
(
Lionheart
,
Bloodsport
,
Max
) and Co-Producer
Michael Douglas
(
Romancing The Stone
,
One Flew Over the Cuckoo's Nest
) along with co-stars
Geoffrey Lewis
(
The Devil's Rejects
),
Bolo Yeung
(
Bloodsport
), 
Alonna Shaw
(
King Of New York
) and
Cory Everson
(
Natural Born Killers
).
Van Damme leaps into the dual roles of Chad and Alex Wagner, twin brothers who were separated after their parents' brutal murder. Years later, the two couldn't be more different: Chad is a slick Beverly Hills fitness instructor, while Alex is a rough and tumble smuggler on the gritty streets of Hong Kong. But when fate throws them together again, Chad and Alex discover that there's one thing they have in common: they're both fighting machines! Determined to enact revenge on their parents' killers, the martial-arts experts kick, chop and shoot all the way to an electrifying final showdown aboard a gargantuan freighter in Hong Kong harbor.
Produced by MVD Rewind Collection's Eric D. Wilkinson, the Double Impact: Special Collector's Edition includes amazing bonus material including a feature length retrospective documentary about the making of the film from award winning writer / producer Richard Schenkman (The Man From Earth) that includes brand new interviews with star and co-writer Jean-Claude Van Damme, director and co-writer Sheldon Lettich, producer Ashok Amritraj, co-star Cory Everson-Donia, co-star and fight coordinator Peter Malota and "Chad" and "Alex" photo doubles Jeff Rector and Jerry Rector. In addition the disc also features almost an hour of never before seen deleted and extended scenes including w newly unearthed alternate ending. The special features also includes "Double Impact: Anatomy of a Scene" with Director Sheldon Lettich highlighting how one of the films biggest action set pieces was constructed. Along with this new material the disc also includes rarely seen 1991 behind the scenes featurettes, trailers, cast and crew interviews and more, cultivating what is the definitive release of this classic action film.
The reviews for MVD's release have been stellar with Under The Radar's Austin Trunick raving "This special edition of Double Impact is another unbelievable effort from boutique label MVD Rewind Collection, whose releases of Van Damme staples Lionheart and Black Eagle really impressed us previously. This release blows those two out of the water, with several hours' worth of new and previously-unavailable bonus features."
"I couldn't be happier about the final product," explains Eric D. Wilkinson, who oversees all of MVD's collector's brands including MVD Marquee Collection, MVD Classics and MVD Rewind Collection and produces each individual release. "Bringing back these classic movies in definitive collector's editions has been a labor of love for me. I especially love working on Jean-Claude Van Damme's films and even more so with director Sheldon Lettich who has been especially supportive. Sheldon and Jean-Claude are a great team and I hope we can get more of their films to release in the future."
Writer / Director Sheldon Lettich agrees, "With Lionheart, MVD created what I consider to be the definitive edition of one of my most popular movies. I'm excited to have worked with them again on a brand new special edition of Double Impact, which I'm sure will not only please long-time fans of the film, but also introduce it to a whole new generation. MVD's release of the film is the best it's ever looked on disc, in my opinion."
MVD Rewind Collection presents Double Impact: Special Collector's Edition. National release date is May 28th and is available exclusively on Blu-ray from MVD Entertainment Group.
Bonus Materials:
High Definition Blu-ray (1080p) presentation of the main feature in 1.85:1 aspect ratio
English Surround DTS-HD Master Audio 2.0, Spanish Dolby Digital 2.0
English SDH, Spanish, French Subtitles
BRAND NEW – Interviews with cast and crew (TBD)
Rare, never before seen behind the scenes footage (TBD)!
Original Theatrical Trailer (SD)
Collectible Mini- Poster
MVD Entertainment Group is a full service music and movie distribution firm, exclusively representing thousands of audio and visual products for DVD, Blu-ray, CD, vinyl, and digital rights, worldwide. MVD also exclusively distributes a growing line of merchandise including limited edition collectibles, tee shirts, and more. The company stays on the cutting edge of new media with a huge catalog of audio and visual digital rights, and by nurturing its direct relationships with the major digital and VOD platforms.